I have been looking high and low for a great vegetarian chili recipe that would "fool" my family.
Travis is a big meat eater and doesn't consider it a full meal unless there is some sort of meat involved.
I found a recipe on Pinterest (but now I can't find it!) and tweaked it a bit to suit our family.
The original recipe was spicier... ours is definitely tamed down so the kids will eat it.
I made sure not to mention that the chili was without meat.
Everyone inhaled it and Travis even had a second bowl.
He gave it a thumbs up and said we should have it again!
And the best part... the recipe makes a huge pot of it. So we had it for dinner again tonight.
That makes TWO dinners in a row without meat ;) I may or may not be patting myself on the back!
The black beans and quinoa provide plenty of protein which makes it so you never miss the meat.
Enjoy!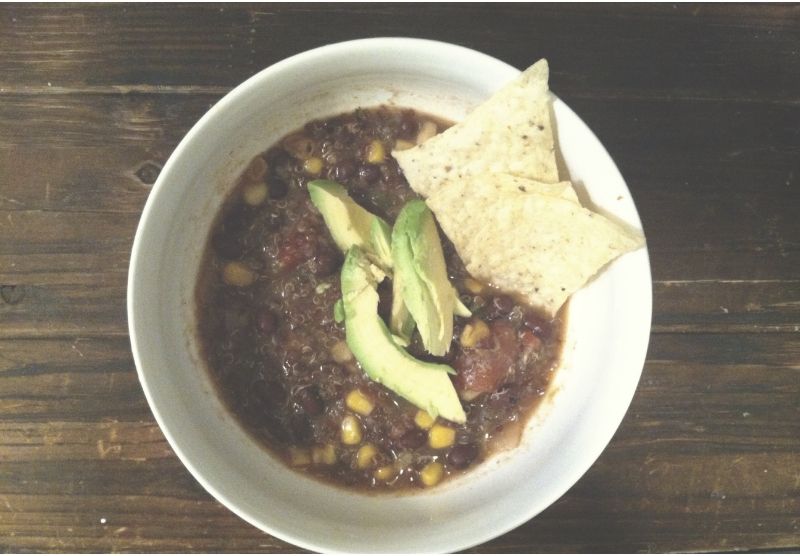 Ingredients
3 Cans Black Beans (drained and rinsed)
2 Cups Water
1 Box of Chicken Stock (32 ounce)
Can of Corn (drained and rinsed)
Can of Diced Tomatoes
1/2 Chopped Red Onion
Chopped Fresh Cilantro (as much or as little as you prefer)
Minced Garlic (I used about a tablespoon)
1 Cup Uncooked Quinoa (make sure to rinse it off first)
1 Tablespoon Cumin (adjust to taste. I used quite a bit more)
1 Tablespoon Chili Powder (I used a bit more. Adjust to taste)
Salt and Pepper to taste
Add all of your ingredients to a pot.
Bring to a boil.
Lower your heat and let it simmer for about an hour.
Serve with a squeeze of lime and avocado on top!